Tuesday, May 14 - Not Without My Father: One Woman's 444-Mile Walk of the Natchez Trace - Author Andra Watkins
Our meeting was fun, interesting, and enlightening. New Rotarians were inducted, including one who we had missed in previous official induction ceremonies . Erik Carranza and Melissa Rickey were formally inducted, as well as, Bonnie Lee.
We celebrated Amigo Rotarian Daniele Calasanzio naturalization that occurred in Atlanta on May 10, 2019.
Our presenter was Rotarian Andra Watkins, featured in the January 2017's Rotarian Magazine and is a New York Times best selling author. She is one of the only living persons to walk the 444-mile Natchez Trace as the pioneers did. She had a life-changing adventure with her 80-year-old father. Her NYT best selling memoir Not Without My Father chronicles that experience. We LOVED her presentation! Her honesty, her humor, her wisdom.
---
Tuesday, May 7 - Catching Up - LOCATION - CORE El Centro
Members had an opportunity to catch up on where we are, where we have been, and what we have learned from "being out in the community" and hearing about issues and initiatives in the community. Newest Future Rotarian, Ronald Rickey, was also in attendance.
Marta is developing a tool for Rotarians to indicate where they wish the club to focus resources in the community. Rotarians who wish to make a recommendation for the use of a District Grant will need to complete and submit to Angie by May 20 for the board to make within that next week. Remember, a criteria for a grant request is a recently conducted needs assessment showing the community need and desire for the given project.
More information can be obtained at the District web site via this link
. Two Amigos Rotarians must also complete the training for District grants and if you are suggesting application then you must do so as well for the club.
---
Thursday, May 2 - Rotary Amigos Table Sponsor and Attendance at CORE El Centro - CORE Momentum - 17th Anniversary -
Rotary Amigos is sponsoring a table at this wonderful event.
It was a FREE event though CORE El Centro hoped to enlighten everyone about their programs and purpose to inspire donations for their programs.
According to attending Rotarians, they successfully shared their mission, purpose, and results!
---
Saturday, May 4 - 8:30-11:30 am - SERVICE DAY at Hunger Task Force Farm
Rotarians came together and made a big dent in the spreading of wood chips on trails to help the farmers and volunteers grow food. This was a Rotary Partner Service Project with Rotary Clubs of Mitchell Field, New Berlin, West Allis, and Whitnall Park.
---
Saturday, April 27 - 9 am - Noon (Noon - 2 pm After Party) - SERVICE DAY - Annual Milwaukee Riverkeepers Clean-Up Day - Amigos Rotarians did this event last year
Amigos is a partner with Milwaukee Riverkeepers and sponsors a segment of the Milwaukee River in Lincoln Park area. Despite the cooler than usual weather, Rotarians Dorothy Krupa (volunteer chair / organizer on behalf of our club), Marta Carrion, Edwin Nyakoe Nyasani, Daniele Calasanzio, Angela Rester, and newest member Erik Carranza cleaned up on Saturday. Dorothy noted that despite the amount of trash, there was about 1/3rd as much as the same time last year. Noted was the large amount of plastic and styrofoam, along with candy and cigar packaging, as well as, needles and things we won't mention. Clearly people need to clean up after themselves and their friends and family!
Afterwards several of us went to the FREE celebration with Rock the Green in Estabrook Park . We got to hear great music and visit numerous ecology-minded services and nonprofits serving our greater Milwaukee region.
Tuesday, Sept. 25
ROTARY IMPACT-WATER & SANITATION AROUND THE WORLD
Rotary Foundation Global and District grants for District 6270 have been very successful in the past because they have involved members like you and I. MANY decades ago, Past District Governor "Ozzie" Oswald created opportunities for clubs to give for wells in Haiti and India. Today, Past District Governor Rick Debe is bringing new opportunities to our clubs as our 2018-2019 District 6270 Water and Sanitation Chair.
Rick shared the following, "We are embarking on some larger Global grants for Water and Sanitation around the world. Our Clubs in #6270 are joining together to leverage and maximize our efforts.
Tuesday, September 18 - District Governor Kola Alayande
District Governor Kola is a 2nd generation Rotarian and is a former Interactor, Rotaractor, AND Rotarian and may well be the only one in our District. He spoke to the club about growing the membership and staying true to Rotary without being so rigid that we don't grow or fulfill mission. As a change agent he hopes to inspire our clubs and individual Rotarians to stretch and do things differently so we remain vital and meaningful. The board then met with Kola and reviewed what makes us an awesome club and how he and the district can better serve our club.
Pictured from left to right - Past District Governor, Amigos Founder and current President Angela Rester
Daniele Calasanzio, Amigos International Director
Kola Alayande, District Governor 2018-2019
Edwin Nyakoe Nyasani - Amigos Secretary and President Nominee for 2020-2021
Thursday, September 13 - Rotary New(er) Member Orientation
This orientation was a collaborative effort of the Rotary Clubs of Amigos Milwaukee After Hours, Mitchell Field, New Berlin, West Allis, and Whitnall Park.
Three Amigos Rotarians participated in this orientation that was very well received.
---
Tues, September 11 - Farewell to Gustavo de Arriba
Sadly we said farewell to Gustavo de Arriba. He only recently learned that he has been hired at a new company based in Denmark .We know we will see him again but will miss his leadership, his joy, and warm welcomes at our wonderful little club.
Tuesday, August 28 - 6 - 8 pm - Service Night - Cathedral Center Dinner Service
Our club's 4th time serving dinner to the women and families residing at Cathedral Center. We had a lot of fun and one of our Rotary members volunteered with his family and a friend.
---
Tuesday, August 21 - 6 - 7 pm - Board Meeting of the Whole
Great board meeting with updates on our service projects, new activities, our new Instagram presence and soon to launch LinkedIn. Updates included learning of the District grant for a project in Uruguay . The board approved signing a Memorandum of Understanding in further steps toward the application of a Rotary Global Grant for the microloan program in Haiti with We Build. We also learned that our club will be involved in Youth Exchange for the first time as President-Elect Gustavo de Arriba and his family will share a German Exchange student with the Mequon-Thiensville Sunrise Rotary Club. Our first multi-club New Member Orientation will partner with Mitchell Field, Whitnall Park, West Allis, and New Berlin Rotary Clubs to be held from 6-8 pm on Thursday, Sept. 13 in West Allis. We have also been advised that we can look at starting a Rotaract Club that would meet WITH Amigos Club. More to come.
---
Thursday, August 14 - Rotary Milwaukee River Clean-Up Service Project
Amigo Rotarians adopted a segment of the Milwaukee River and under the supervision and organization of Rotarian Dorothy Krupa, we have gotten the job done. This was our third time out this year.


---
Thursday, August 9 - Rotary District One Summit
Amigo Rotarians Daniele Calasanzio, Frey Faris, Edwin Nyakoe Nyasani, and Angela Rester. The session included Rotarians from other clubs and District leadership. Our friend, Rob Bassett did a great job facilitating one of the groups.
Tuesday, August 7 - Club Assembly
Tuesday, July 24 - Social at Milwaukee Athletic Club (MAC) Rooftop - need not be Rotarian to attend if you're Rotary curious. Appetizers were provided. Cash bar.
---
Tuesday, July 31 - 6 - 7 pm - No meeting - 5th Tuesday of Month
---
Tuesday, July 17 - River Clean-up
Rotarians from Amigos, West Allis, and New Berlin joined us in our second of three river clean-up sessions as part of our club's Adopt a River commitment.
---
Tuesday, July 10 - Rotary Year 2018-2019 - First Strategic Thinking Session and Rooftop Social
It was an exciting evening as those gathered offered thoughts on what are strengths, weaknesses, and priorities of attention and actionable steps in our first month (accomplish by August 25). Afterwards some gathered on the MAC rooftop for great food and fellowship.
---
Tuesday, June 26 - Rotary Year 2018-2019 - Planning to Plan
Discussed what is on the horizon and how we will use July 10 to establish club Key Issues which will later have Action Plans developed.
---
Tuesday, June 19 - Changing of the Guard Honoring President Rosa Sugo-Golden and Welcoming President Angela Rester and Board for July 1, 2018 thru June 30, 2019
Ethiopian Adventure with special thanks to organizer Frey Faris and the wonderful owners and staff of Alem Ethiopian Village. The music, the dancing, the FOOD all made the Rotary Changing of the Guard extra special. 2018-2019 District Governor Kola Alayande inducted the board and president and shared his vision of Rotary with the nearly 40 attendees. The room was full of color as many wore international garb.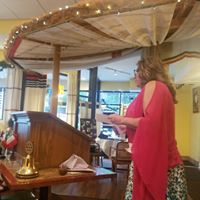 ---
Saturday, June 16 - Service Project on 6/16 - Park Clean-up with Whitnall Park and Mitchell Field Rotary Clubs
Park clean-up project with Whitnall Park Rotary, Mitchell Field Rotary, and Amigos. We met at the domes at 8.30 A.M. and finished up with a picnic. Rotarians from Whitnall Park, Mitchell Field, Amigos, and West Allis clubs did a great job!
---
John Nyakoe Nyasani -
John was born and raised in Eldoret Kenya, East Africa. At 13 he knew he wanted to come to the United States and study. He vividly remembers being a child in his village and the community set up a screen and showed a movie....the first time anyone in their village saw a movie. One scene had a locomotive come straight at the audience and he recalls everyone moving out of the way. It was his introduction to technology that has remained through today. His father is a retired Agriculturalist and is a farmer. His mother owns a boutique and sells clothes. They were strong examples of curiosity, work ethic, and determination for John. They also own a tea farm in Kenya. John emigrated to Minneapolis, MN at 17 years of age. Currently he's the IS Business Automation Specialist / Health Reports Coordinator with the Wisconsin Department of Health Services.